Company activities
Manning services
We are offering manning services of officers and crew for various types of vessels, including partial manning (officers only). Officers and crew consist of various nationalitiessuch as East and West European, Indian and Filipino.
---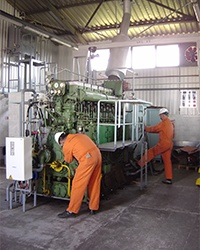 Crew Management package includes such services as:
Initial interview and selection of crew
Pre-employment – "Tailor made" familiarization training, reflecting companies procedures and ISM requirement
Pre-employment medical examinations with D&A test
Visa applications
Seafarer's travel arrangements - joining and repatriation
Payment of crew allotments & salaries with shipboard accounting
Monitoring of appraisal reports
Arrangements of various crew training
For more info see Crew page.
---
Training
As one of the most important factors for safe, efficient, economical and environment friendly ship operation through our daily activities we can offer wide range of STCW'95 mandatory training, as well as "Tailor-made" courses in accordance to the specific needs of various principals such as:
Safety training
Bridge and Engine team training
Ships handling
Engine room operation
Specialized oil cargo handling
Microsoft certified training
Maritime English communication
ISM / SMS approved training
For additional info see Training page.
---
Other activities - technical services
Arrangements of Marine and Technical Superintendents to attend repair work in port
Preparing & supervising dry-docking, negotiation repair bills
Repairs during voyage by maintenance teams
Marine consultancy:

Ships surveying
Annual Safety inspection on behalf of Maritime Administration
Pre-registration inspection on behalf of Maritime Administration
Pre-purchase and conditional surveys
Consulting services on development and implementation of Safety Management System, ISM Code for Shipping Companies
Consulting in creation of SMS documentation
Internal ISM audits of Companies as well as company vessels