Crew
Azalea Crew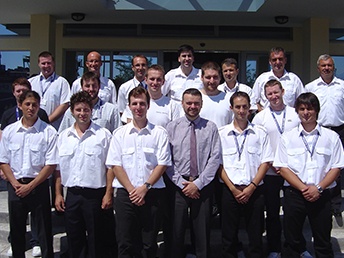 Azalea Maritime Agency is a manning agency dedicated to serve maritime companies worldwide. Established in January 1997 with its headquarters in Herceg Novi – Montenegro, Azalea Maritime Agency has diversified its crewing services and now provides not only officers and crews from Montenegro but also multi-national crews for various types of vessels worldwide. Whether it is full or partial crew requirement, Azalea Maritime Agency offers solutions to all your crewing needs.
Azalea Maritime Agency has set a high-level standard for quality. Our objectives are to render complete and cost-effective quality services to our customers regarding shipboard personnel. We understand that quality means conformance to agreed requirements.
The aim of crew management, our main activity, is to provide our principals with quality personnel through quality service leaving them the freedom to concentrate on other aspects of ship operation, as they can fully rely on our competence in recruitment and selection of shipboard personnel.
Recruiting of seafarers is based on standard procedures which are defined in Azalea's Quality Management System (ISO9002). The recruitment process consists of: sourcing & maintaining data of applicants, selection & interview, processing in accordance with flag state required rules and regulations, pre-joining training and familiarization with different principals / types of vessels and their trade and pattern and monitoring of appraisal reports in order to find space for improvement.
---
Cadet Training Programme
In view of the world-wide shortage of maritime officers and engineers, Azalea Maritime Agency introduced a cadet training programme in 1997. This programme is based on training graduate students of a nautical college/university from cadets to junior officers. The programme applies to both departments, deck as well as engine.
Therefore, on the 08th October 1999 Azalea Maritime Agency signed a cooperation agreement with Maritime School – Kotor. The cooperation between the Maritime School – Kotor and Azalea Maritime Agency is reflected in the Azalea Maritime Agency's right of priority to select the best students from the Maritime School Kotor who want to make their carrier at sea. Those fulfilling the demands of the Azalea Maritime Agency will then be recommended to our clients to be employed on board their vessels.