Specialized Oil Tanker Training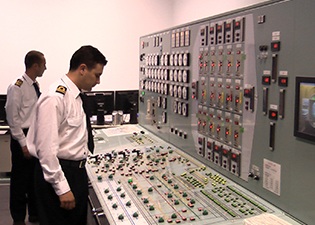 Course Information

| | |
| --- | --- |
| Course requirement | STCW compulsory |
| Duration in hours | 62 |
| STCW references |   |
The course is practical and theoretical and consists of a series of exercises performed on a cargo handling simulator. Full use of the cargo simulator will be made introducing actual scenarios for loading / discharging /ballast / tank cleaning operations.
The course is designated for Chief Officers and Second officers who are to be promoted to Chief Officer position in near future.
To enhance the knowledge, cargo handling skills including company procedures of the officers having direct responsibility for cargo, ballast and tank cleaning operations, to meet the required standards.
The course is open to Chief Officer and Second Officers who are in possession of Oil Tanker Operations certificate and are familiar with the cargo handling principles.
Cargo Planning with practical exercises
Ship / Shore Interface
Procedures arrival port
Calculation of acceptable load rates
Topping off
Securing the vessel for sea
Voyage documentation
Ballast water management
Discharge Plan
Ship-Ship transfer
Vetting inspections
Presentation on TMSA
Dry-dock Planning and Preparation