Survival Craft and Rescue Boat Operations other than Fast Rescue Boat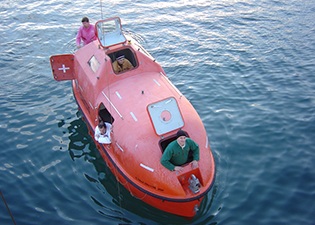 Course Information

| | |
| --- | --- |
| Course requirement | STCW compulsory |
| Duration in hours | 31.5 |
| STCW references | A-VI/2-1 |
The course aims to provide the training for candidates to launch and take charge of a survival craft or rescue boat in an emergency situation. The emphasis of the training is in organization, tactics and command.
The certificate of proficiency in survival craft and rescue boat other than fast rescue boat acquire all officers as well as other members of crew who are handling lifesaving appliances.
Candidates successfully completing the course will be competent to operate life-saving appliances and take charge of survival craft or rescue boat during or after launch. To operate a survival craft engine, to use correctly all locating devices including communication and signalling apparatus and pyrotechnics, to apply first aid to survivors and to take action to preserve the lives of those in their charge.
The course is designed for seafarers who are handling life-saving appliances, are at least 18 years of age, have not less than 6 months of seagoing service.
All trainees must be certified by doctor to be in good health.
The course takes full account of the detailed outline set in A42 part of the Regulation on ranks and certification of seafarers (Official Gazette Montenegro number 55/2013). The course is fully compliant with the IMO Model Course 1.23.