Azalea Maritime Agency
Azalea Maritime Agency, duly organized, was established in January 1997, partly owned by Azalea Maritime B.V., Rotterdam, The Netherlands, and it is authorized agent for Azalea Maritime B.V. and MOL Tankship Management B.V., Rotterdam.
Since 1997, over 200 seafarers from the region of Serbia & Montenegro, and Bosnia & Herzegovina, have been employed onboard Mitsui O.S.K. Lines vessels. More than 90% of them are still sailing within the same fleet, whilst 70% of the number has been promoted at least once during their service.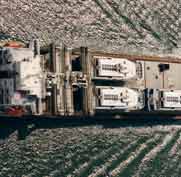 Complying with the standards of ship owners, primarily through dedication and hard work of the seafarers themselves, but also through cooperation of Azalea Maritime with educational institutions in Montenegro (traineeship and employment programs) gains more importance steadily and is the primary commitment of the agency.
At the beginning of 2002, Azalea Maritime Agency was given the official License for crew management business by the Employment Agency of Montenegro.
Our primary goal is safe, efficient, environment friendly and cost-effective operation of the vessels in terms with ISM code and our quality system in accordance with ISO 9001. The company has been accredited ISO-9002 certificate on 18th April 2000 through Det Norske Veritas (DNV).