Auxiliary Diesel Engine Generator Overhaul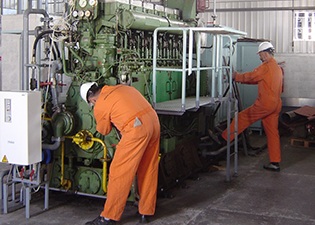 Course Information

| | |
| --- | --- |
| Course requirement | STCW recommended |
| Duration in hours | 40 |
| STCW references | A-III/1, B-III/1 |
Auxiliary Diesel Engine Generator Overhauling course is designed in the way that the participants by attending this course gain and enhance the knowledge, ability and confidence concerning the maintenance and repair of the diesel generator engine and the main switchboard.
The targeted group of participants is dedicated is Junior Engineers who are in charge of engine sea watch.
Upon completion of this course, participants will be able to:
have a proper approach to the drawing and analysis of the major diesel generator systems and their components such as: lubricating oil, cooling water, starting air, fuel oil, rocker arm lubricating oil
improve their knowledge regarding the main switchboard and its components and gain ability to understand electrical drawings
have an ability in taking the running engine performance by loading the engine up to 75% by the water resistor
overhaul almost all components of the engine such as: cylinder head, piston & connecting rod, cylinder liner, fuel injection pump, main bearing, turbocharger, etc
check the fuel injection timing
take properly the crank web deflection
heat up the engine and prepare for run up
inspect sensible parts of the engine for cracks and damage
clean and take proper measures and clearances of all overhauled engine parts which are subjected to the wear
clean, inspect and adjust the fuel injection and safety valves
check the valve injection timing
test and adjust the safety devices of the engine such as: over speed, low pressure lubricating oil, high fresh water cooling temperature, high exhaust gas temperature
Basic knowledge about a diesel generator engine and be familiar with its systems, as well as a main switchboard.
Lectures (power point presentation) and the workshop practical training on DAIHATSU GENERATOR DIESEL ENGINE PS – 26 cover overhauling, taking the engine running performance (having loaded the Engine up to 75% by the water resistor) and troubleshooting of the Engine, including system analysis using applicable operational manual, test equipment, special tools, and safety precautions.
Furthermore,the participants will refresh the theory of diesel power, how a diesel engine works, maintenance requirements and how to troubleshoot common problems found in fuel and electrical systems.