Reefer Container Repair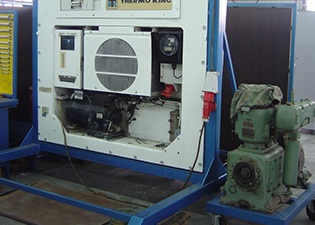 Course Information

| | |
| --- | --- |
| Course requirement | STCW recommended |
| Duration in hours | 40 |
| STCW references | ISM Code |
This intensive five-day training course is designed for users of reefer container ships. Reefer containers require due care and attentiveness throughout the transportation process due to the perishable nature of cargo that they carry. Proper maintenance of refrigerated containers is therefore crucial to their performance while in transit. Understanding the criticality of the cargo specializes in maintenance and monitoring of reefer containers.
The course is designed for ships' engineers and those responsible for the maintenance and management of temperature controlled containers on board ship.
Upon completion of this course trainees will gain a sound knowledge of the mechanical and electrical operation and systems employed in these units.
It isrecommended that the trainees have a certain technical background regarding the understanding of the working principle of a refrigeration unit.
Basics of refrigeration
Containerization and container refrigeration
Controlled atmosphere system and types of refrigerated cargo
Flow of refrigerant through the components of the refrigeration system
Controllers
Refrigerants
Case studies
Simulator exercises