Machine Tools Operation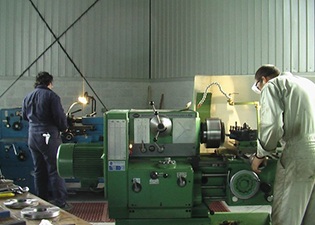 Course Information

| | |
| --- | --- |
| Course requirement | STCW recommended |
| Duration in hours | 40 |
| STCW references |   |
The subjects covered should serve as a valuable introduction for those who have little experience in measuring and machining and also very useful for experienced engineers. Trainees will gain considerable benefit as they will explore and experience a variety of machine tools operation techniques. The course includes specific principles of machine tools operation with their practical application using various operational techniques.
The course is of limited duration and therefore cannot be considered as providing comprehensive machinist training, which would take much longer.
This course is primarily intended for marine engineers who will be responsible for machining operations for repairing and maintenance on board ship, but is equally suitable for engine ratings in performing their duties and responsibilities safely and efficiently during their on board employment.
Upon completion of the course, trainees will gain sound knowledge about:
using safe practices at all times
understanding the parts and functions
application of the correct procedures for setting up and securing work for any given machining operation
the proper use of lathe, grinding, milling and drilling machine
grinding and selecting the appropriate cutting tools, accurate measurements and machining sequences for a given time
maintenance of tools and appropriate equipment in order to be ready for use at any time
practical application with the fabrication of a given specified project
This training course is intended for marine engineers and for ratings with on board experience.
Introduction to the machines (lathe, milling, grinding and drilling machine), their purpose, potentials, maintenance, safety procedures before, during and after the operation
Introduction to the tools which are used during working operations (holding circuit tools and cutting tools)
Introduction to measuring equipment, which is used during working operations
Practical work with the machines