Ship to Ship Operations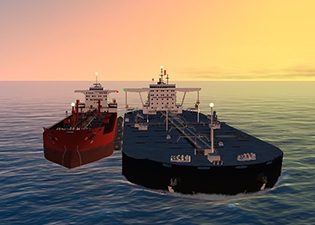 Course Information

| | |
| --- | --- |
| Course requirement | STCW recommended |
| Duration in hours | 8 |
| STCW references | A-II/1, A-II/2, A-VIII/2, B-I/12, B-VIII/2 |
The course is practical and theoretical and consists of a series of exercises performed on a ship handling simulator. Classroom lectures will provide the necessary theoretical background for the exercises. Particular items dealt with will be illustrated either by including them as part of an exercise or by separate simulator demonstration.
The exercises increase in complexity as trainees become familiar with the manoeuvring characteristics of the ship model and its response to the engine and helm in various conditions.
The course is designated for Masters, Chief Officers, other officers and future officers who are in charge of navigation and watchkeeping, such as mooring Masters.
The trainees who successfully complete this course will have gained experience in STS operations under various conditions and will make more effective contribution to the bridge team during ship manoeuvring in normal and emergency situations.
The course is open to seafarers who have a minimum 12 months watchkeeping experience as officer in charge of navigational watch and have also completed training which meets or exceeds the standards set out by IMO and STCW.
Ship particulars
STS operation and management
Communication
STS equipment
STS safety and emergencies
Operational preparations before manoeuvring
Manoeuvring and mooring
Unmooring
Reporting on STS completion
Case studies
Simulator exercises