Engine Cadet Pre-joining Familiarization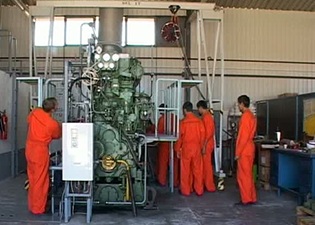 Course Information

| | |
| --- | --- |
| Course requirement | STCW recommended |
| Duration in hours | 40 |
| STCW references |   |
This training course is intended to briefly cover all topics covered during maritime education period, as stated in the course content section.
The training course is very demanding and includes a lot of practical work, workshops, group assignments and homeworks.
This training course is designed for all future seafarers looking for employment on board vessel in the capacity of engine cadet.
Aim and objective of this training course is to refresh the trainees' knowledge gained during their education period and expand that knowledge with practical examples and as per Industry standards.  
Completed Maritime High school or Maritime Faculty
Completed basic safety training
Conventions
Fuel oil system
Marine fuel handling and pre-treatment
Marine fuel properties
Steering gear
Cooling system
Auxiliary engine
Marine lubricants
Operation of generators
Auxiliary boiler plant
Fuel combustion efficiency
Pumps and pumping operations
Maritime English
Practical work