Vetting, SIRE and Tanker Inspections - Class Approved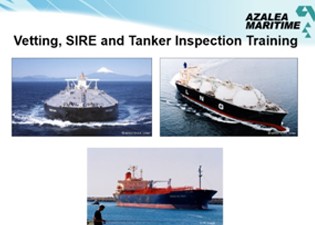 Course Information

| | |
| --- | --- |
| Course requirement | STCW recommended |
| Duration in hours | 24 |
| STCW references | OCIMF recommendations |
The SIRE training course is designed for junior and senior deck and engine
officers in order to facilitate their understanding of the whole SIRE vetting process
and procedures, to emphasize importance of today vetting inspections, how to prepare, manage and proper report of inspection in order to eliminate remarks and to avoid recurrence, encourage to share and explore real life scenarios by participating in various realistic workshops, and understand purpose and functionality of available company database.
The course takes into consideration the recommendations of the latest industry standards regarding vetting process, OCIMF recommendations and latest available Company database.
This course is Bureau Veritas class approved.
The course is designed for junior and senior officers who want to familiarize themselves with the proper SIRE procedures.
The course aims to provide trainees with understanding the history and purpose of
SIRE inspection, terms related to vetting inspection, to understand the conduct of SIRE inspection, how inspection is arranged and concluded, understand the use of inspection tools and other documents related to inspection, understand the
necessary preparations during inspection, to determine individual's role and responsibilities during the inspection, know and understand the consequences on the failure of inspection, understand the right conduct and approach in dealing with the inspector and enhance crew awareness and sense of responsibility to keep the vessel ready for inspection at all times.
Those wishing to start this training course should be in possession of a valid COC (minimum Officer in charge of a navigational or an engineering watch).
History and purpose of vetting inspections
Preparation and conduct of inspections
VIQ tools
SIRE database
Vetting Inspection Management
Workshops